Native Code Analysis
JEB is fully-equipped to perform native code analysis of binary files compiled for Windows (PE), Linux and variants (ELF), or most other platforms, including headless firmware files.
Decompilers#
JEB Pro ships with analysis modules, including gendec decompilers for Intel x86, ARM, MIPS, Ethereum, WebAssembly, and more.
Siglibs#
JEB supports the creation of signature libraries (siglibs) for library code recognition. JEB Pro includes complete library signature sets for:
Android NDK libraries (ARM/ARM64). Common libraries (libc, libc++, zlib, etc.) are signed from NDK v11 up to the latest version (v20 as of 11/19).
Microsoft Visual Studio libraries (x86/x86-64). C runtime libraries and standard C++ libraries are signed from Visual Studio 2003 up to Visual Studio 2019.
Typelibs#
JEB supports the creation of type libraries (typelibs) for common Windows and Linux subsystems, including:
Android NDK on ARM 32-bit
Android NDK on ARM 64-bit
Android NDK on x86 32-bit
Android NDK on x86 64-bit
Windows win32 on Intel x86 32-bit
Windows win32 on Intel x86 64-bit
Windows win32 on ARM 32-bit
Windows win32 on ARM 64-bit
Windows DDK on Intel x86 32-bit
Windows DDK on Intel x86 64-bit
Linux glibc on Intel x86 32-bit
Linux glibc on ARM 32-bit
Linux glibc on MIPS 32-bit
Native Code Actions#
Common native code actions can Be found in the Native menu: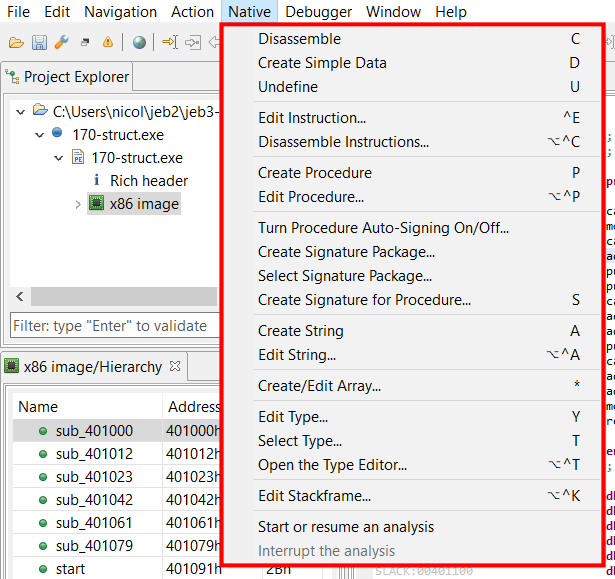 ---
Section to be completed
---